Ohio Department of Health has recently initiated the Vaccine Management Solution (VMS)  This is a website that allows Ohioans to easily determine whether they are currently eligible to receive COVID-19 vaccines, or sign up to receive future alerts when eligibility is expanded. 
A few of the more common places to sign up are the Trumbull County Combined Health District, Discount Drug Mart, Giant Eagle, Good Neighbor Pharmacy (in Shop 'n Save), Rite Aid, and Walgreen's. They're all a little different. 
You can sign up over the phone at the Health District by calling 330-675-2489 and leaving a message with your name, date of birth, and phone number. You can also register at the Health District online by clicking here and filling out the form. It works like a waiting list. When an appointment is available, someone from the health department will contact you.
Discount Drug Mart works the same way. You can either call the store or fill out the form here and you'll be put on Discount Drug Mart's waiting list.
Giant Eagle, Rite Aid, and Walgreen's don't have waiting lists. If you can't get an appointment at first, our best advice is to keep checking back; availability changes from day to day. Expand your search area if you can -- for example, if everything's filled up in Newton Falls, try Warren.
For Giant Eagle, you can register online here or by calling the Giant Eagle Pharmacy.
To schedule your vaccine at Walgreen's, click here. You can also call your local Walgreen's or 1-800-WALGREENS (1-800-925-4733) to schedule an appointment over the phone.
To schedule an appointment at the Shop 'n Save Good Neighbor Pharmacy, you can call (330) 872-6400.
To schedule an appointment at Rite Aid, click here. If you're having trouble getting past the "Select a Pharmacy" page, try typing in the city instead of the zip code on the "Find Stores" line (circled in yellow below).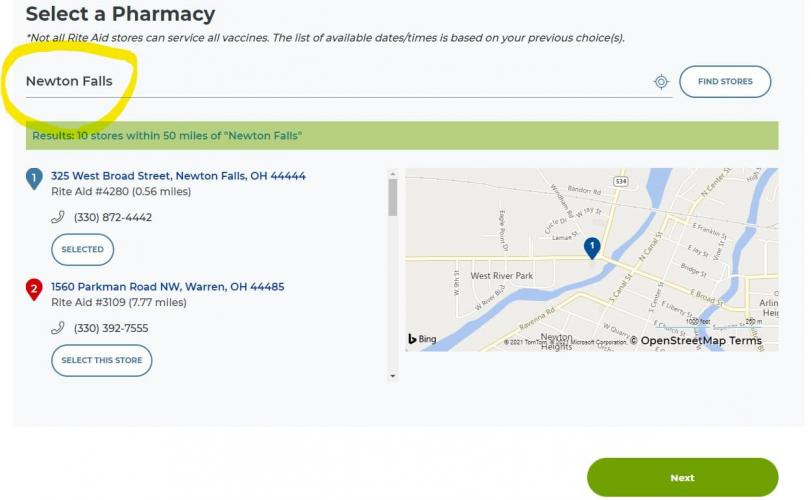 Some places need you to have an email account that you're able to log into. If you don't have an email address, we can help you set one up.